Note: Photo above has nothing to do with this post – I just liked it it reminds me of me (when I was a
bit younger talking with friend on a gay nude beach, Black's Beach, San Diego) — often the naked person looks so dour and serious. This guy is certainly enjoying himself and even (perhaps – although I never would) forgetting the fact that he's unclothed in front of his clothed buddy. I hope you can share the laugh, too.
I recently went to 24 Kaikan in Shinjuku (Tokyo) yesterday afternoon and stayed to nearly midnight. I guess there were lots of guys out because it always gets festive and a bit wild around a Japanese holiday (it's not a holiday – but feels like one since the new fiscal year (new work year (and new employees) and schools start their academic years this week).
 So a even an natural event like cherry blossoms being in full bloom prompts an activity known as 'hanami' or 'sakura-viewing' (cherry blossom viewing) and that's a good excuse for people to stroll under them – day and night – and also have picnics under or near the cherry trees where there is always alcoholic drinking as part of the festivities.
[Photo just above is one of this blog's author.]
I guess too the warmer weather makes everyone hornier because hormones are flowing. Note: When I was out with my friend, Mogi, on Saturday for 'hanami', I can't tell you have many stiff semi erect cocks I saw in guys' pants as we strolled along the sidewalks or made our way through the crowds of weekend shoppers. I just KNEW something was in the air!
      When I arrived at 24 Kaikan, I changed and got naked and proceeded to lay out on the roof top of the 7 story building. It is a sundeck and there is a partially enclosed shower stall. You are not supposed to be naked there (posted NO FULL NUDITY).. but I always try to do so — perhaps clandestinely – but no always discreetly (LOL). There was not any action there – but for me, being naked in public always stimulates my hormones and makes what it better once I descend to the lower floors in search of raw sex with horny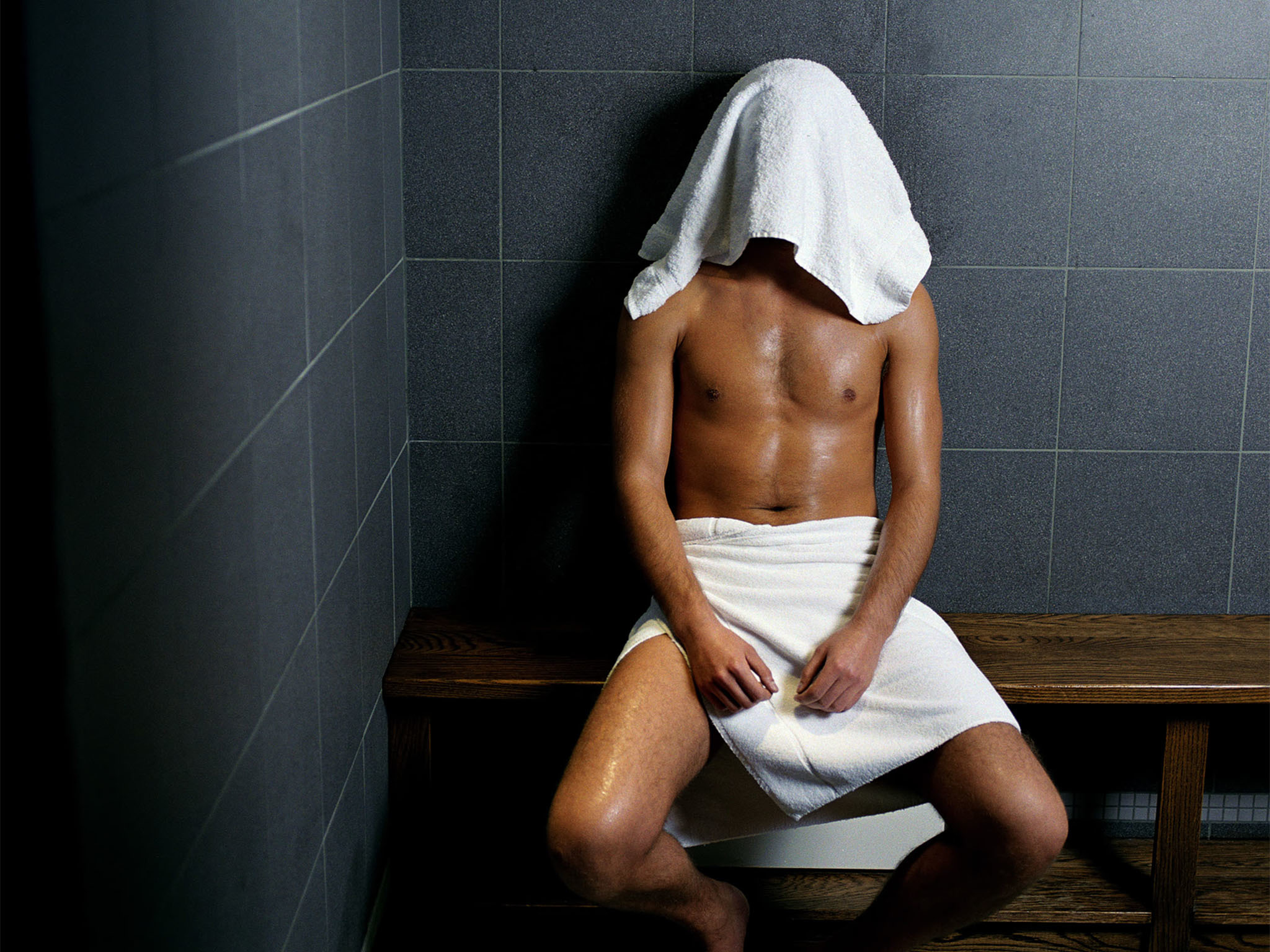 Japanese men. One older European man did come up to the roof, and oggled me while I showered naked, but he didn't linger. Knowing that I can be spied on by people (men) in the surrounding buildings is certainly stimulating. I did get involved in a 4-5 person orgy and ended up fucking the ass of two different guys who wanted as many cocks up their butts as possible.
One of the guys watching me plow their assholes was a younger Japanese guy who let me clutch his hand while he bent over behind me and looked at my cock stuffing the guy's anus.
Later, while I was getting sucked while standing beside of the bunk beds by a 30-something Japanese dude I have 'encountered' several times at 24K, that same young guy who watched the butt-fucking. He let me kiss him and grope him so he and I ended up climbing into the top bunk and having a long and intense session. He loved being rimmed and having his hole fingered. Eventually, he came with me stuffing fingers up his ass.
  See our Facebook page:  Ii Otoko Da https://www.facebook.com/iiotokoda/ (a social network page on Facebook for guys into the beauty and erotic nature of the Asian male).
You can also have look at one of my other explicit blogs: http://otoko-gay.blogspot.com
Mata ne!
Kelly (sunbuns)